Plumbing
Question Topic
Plumbing Replacements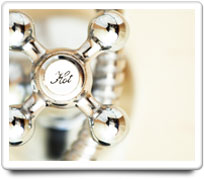 Home-Wizard™ calculates your ideal home care program to avoid problems with your Plumbing, but sometimes trouble can still occur. Here are answers to questions about plumbing replacements.

QUESTION FROM mike.cooley
Trying to replace a bathroom tube restrainer. The existing one is giving me hell as I try to unscrew. Any recomendations?
---

ANSWER FROM HOME-WIZARD
Dear Mike:

I'm not exactly sure which pieces you are working on. But if its metal pieces in the bathroom that you are trying to unscrew, you might want to try spraying them with "Liquid Wrench" (or another such penetrating / dissolving oil), then letting it soak in overnight.

And now here's where you need to be careful. When you are trying to break free parts that are stuck together like what you've described, its better to give a sharp pull on the wrench, rather than a long strong tug. But be careful, if you give it too sharp of a tug, you could break or strip the threads.

Hope this is helpful.
Home-Wizard.com

QUESTION FROM anonymous
How do you change a faucet?
---